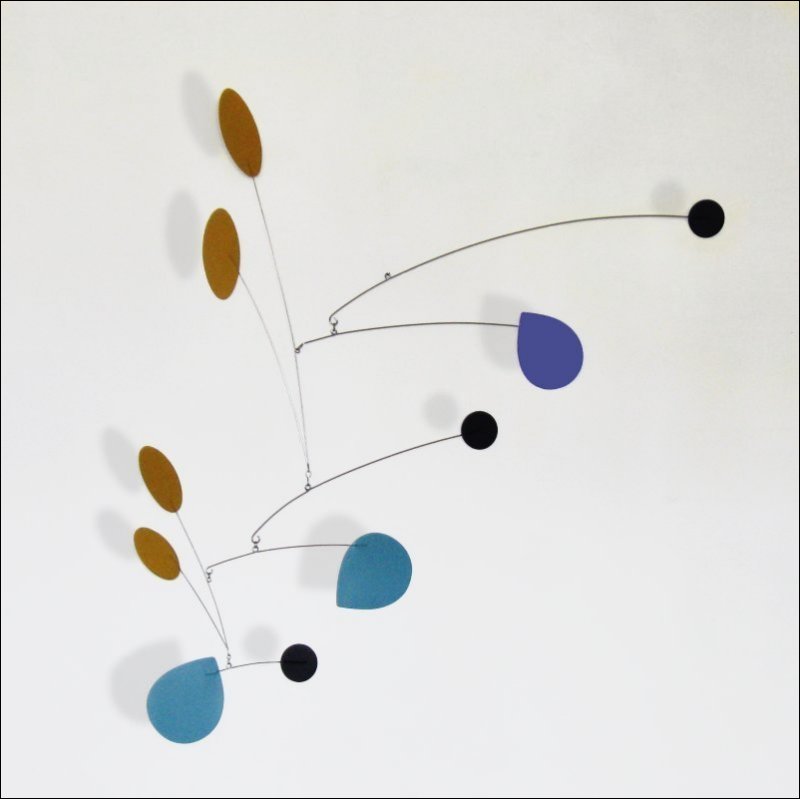 Poppy
32 inches tall x 31 inches wide

This beautiful hanging mobile is an abstract kinetic sculpture that will gracefully move with the slightest air-current.
It is the perfect accent for any modern, retro, mod or atomic-age inspired room.
Poppy is constructed of sheet metal and stainless steel wire. The elements are primed and painted in verdigris, grape, khaki, and black. All paint is durable acrylic enamel - matt finish for maximum light absorption.
The stainless steel wires are left unpainted.
Measuring 32 inches tall by 31 inches wide (it swings around in a 38 inch diameter), it is large enough to make a dramatic statement in a room with a tall or vaulted ceiling, or a two-story foyer. Not recommended for a low-ceiling room unless you have quiet corner with some space. This mobile will need to hang at least 20 inches away from any obstruction like a wall or door, and with 4 inches of space between its top element and the ceiling, the bottom will be 36 inches from the ceiling. This mobile is durable but is not suitable for outdoor display.