All of the hanging mobiles and stabiles shown in my gallery are built from my own original designs and are hand-crafted out of sheet metal, steel wire, and acrylic enamel paint (if alternate materials are used, they are noted within the item description). Each one is a unique work of art - and is signed and dated.
Commissions / Custom Colors:
I love working with customers to create a unique hanging mobile design that perfectly compliments its space. Alterations in size and/or color for any of these designs is possible, or perhaps you have something completely different in mind! Drop me a line and let me know what you need.
Here is a Color Chart that you can use for color selection.
A special note regarding Calder Copies:
I am often asked if I could make a reproduction of an Alexander Calder mobile or stabile design. Please be advised that all of Alexander Calder's designs are copyrighted and any reproduction of them in any form is prohibited. Therefore, I will not quote on the reproduction of any Calder sculptures.
All of the designs on this web page are my own original works (except where noted on the "commissions" page) and are not endorsed or associated with Alexander Calder or the Calder Foundation in any way,
A Note About Dimensions:
All dimensions are approximate. Since each piece is built by hand, slight variations in balance points and overall sizes will occur. You might find that your mobile is a little bigger or smaller by an inch or two depending on how large of a design it is...there isn't much that I can do about that. Please note that there are two different measuring methods used in the descriptions: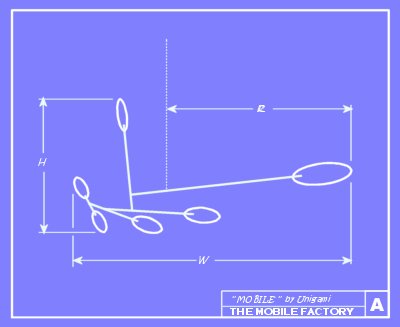 Method 1) Example: 36" tall x 40" wide
36" tall = the vertical distance from the uppermost physical point of the mobile (may be a wire or element) to the lowest point.
40" wide = the horizontal distance from one end of the mobile to the other if you were to lay it flat.
Method 2) Example: 36" tall x 40" sweep diameter
36" tall = the vertical distance from the uppermost physical point of the mobile to the lowest point (same as Method 1)
40" sweep diameter = the diameter that the longest arm will trace as the mobile sweeps around its axis. This is a more accurate method of specifying size and is useful for determining if you have enough space for the mobile to move.
Delivery and Payment:
I build to order, and can usually complete a mobile in about a week or two depending on my backlog. I ship via USPS for free to anyone in the continental United States. All others will pay exact shipping charges.
Payment is due prior to shipment. I accept personal checks (held 5 days to clear), money orders, or credit card payment via Paypal.com to: unigami@yahoo.com
Contact Info
Rick Bissell
227 Woodbridge Ln.
Chardon, Ohio 44024
mobilefactory411@gmail.com
Please note that I prefer to be contacted by email for pricing information.
Quality Policy
My mission is to create and produce beautiful and lasting works of art and deliver them to a satisfied customer. If you order a mobile from me and find that you are unhappy with it in any way, you may return it and receive your money back. My only requirement is that you re-package the mobile carefully (preferably in the original container) so that it is not damaged in the return shipment. If you find any defect or damage to the mobile, (even if you are to blame!) please let me know and I will make arrangements with you to have it repaired or replaced.